Having trouble completing your Aceable course using Google Chrome? Working your way down this troubleshooting list is the best way to tackle technical issues that you may be experiencing. We recommend following these steps in order so that you can quickly get to the root of your issue!
1. Log out and log back in to your Aceable account
Click the three white lines in the top left corner of your screen to open the menu.
Click on the white "x" at the bottom of the menu to log out.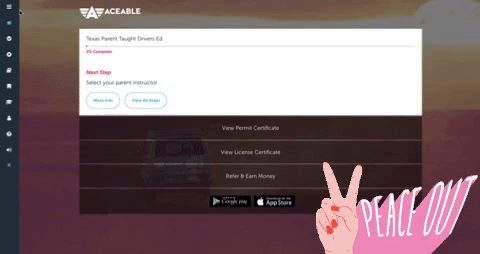 2. Force refresh
Using a Windows computer? Press Ctrl + Shift + R
Using a Mac? Press Command + Shift + R
3. Clear your browser's cache.
In everyday language, this means clearing out any temporary files that you've stored in your browser. It allows your browser to function more efficiently, and often helps to resolve any glitches you might be experiencing in the course.
Click here to open your Clear Browsing Data menu.
Under the "Basic" menu, you'll see a checklist with 3 items: Browsing history, Cookies and other site data, and Cached images and files.
Select Cached images and files, and uncheck everything else. Your screen should look like this:
Click the blue Clear Data button.
Log back in to your Aceable account here.
Still experiencing technical issues? Contact Aceable's Customer Experience Heroes here.
---
Couldn't Find the Answer You Were Searching For?